Mouikis Village - Restaurant and pool
Stunning view from our sunny swimming pool
Did you already discover the stunning view from our swimming pool? It does not only look over the whole airport of Kefalonia, it gives you also the priceless view over the big blue Ionian Sea. We invite you to come over and spend the whole day at our lovely pool and discover the fabulous view yourself.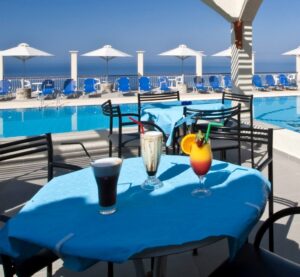 Whilst you are at the pool you can order some cold drinks. What do you think off an icy mythos beer or even better a frappé served with ice cubes or a scoop of vanilla ice cream? 
For lunchtime you can choose to sit at your swimming pool chair and order a meal at the pool bar. You can also sit down in our lovely restaurant. On the menu you will find some tasty light meals. 
Ready with swimming and still want to enjoy this stunning view up from the hills, then you are invited to stay over to have a delicious dinner with us. You can choose to sit up in the restaurant or choose a table at the poolside, where you will be able to view the beautiful sunset over the Island over the Lixouri side.  
On the main menu you will find different kinds of meals. How about an ordinary pork souvlaki with fries and pita bread, or you can choose one of the delicious meals from the traditional Greek kitchen, like our home made risotto.
Who know this might be a difficult process to choose whatever you want to order, so let's introduce you to our Greek Meze for two. This comes with: 
* 2 mini hamburgers 
* 2 hot Greek sausages 
* 2 chicken filets 
* 2 pork souvlaki 
* 4 slices of pita bread 
* 2 fried cheese balls 
* fried zucchini 
* tzatziki sauce 

Want to visit our restaurant/pool bar? The opening ours are the following:
* 08:00 till 10:30 am for breakfast
* 11:30 till 18:00 pm for lunch
* 19:00 till 23:00 pm for dinner
* the bar closes at 0:00 pm
* the pool opens at 9:00 am and closes at 20:00 pm
(Pool is only available if you are a guest from the hotel)
Every morning we offer you our delicious breakfast, with only the best and fresh products we can get.
Options:

– Continental (*)
– English (*)
– Fruit salad with yoghurt
Price: € 8,-
Breakfast comes with 2 cup of coffee and 1 juice.
Fresh orange juice and extra coffee are available but will be charged apart on the bill.
(* the eggs will come fresh each day from the family farm, where more than 150 chickens are housed)
Weather you're a guest from the hotel or a visitor from outside we will be happy to serve you!